Lavender Bay Apartment
We were engaged to transform a tired late 1980's apartment which was a series of enclosed spaces at odd angles in an amazing harbour setting. The existing layout was reoriented to create a deeper sense of space and access to air, views and light. The kitchen and living areas are stretched along the width of the space , creating horizontal proportions and drawing the eye out to the horizon line and harbour beyond, encouraging full use of the living spaces and outdoor terrace.
Photography by Mark Skye
Kitchen and dining
The kitchen becomes a sculptural element in the apartment , with a large island slab , blue lined bar, pantry and fridge block , and textural timber cabinetry. The colours of the harbour are reflected in the ultramarine blue bar area inspired by Brett Whitely's Lavender Bay series of paintings.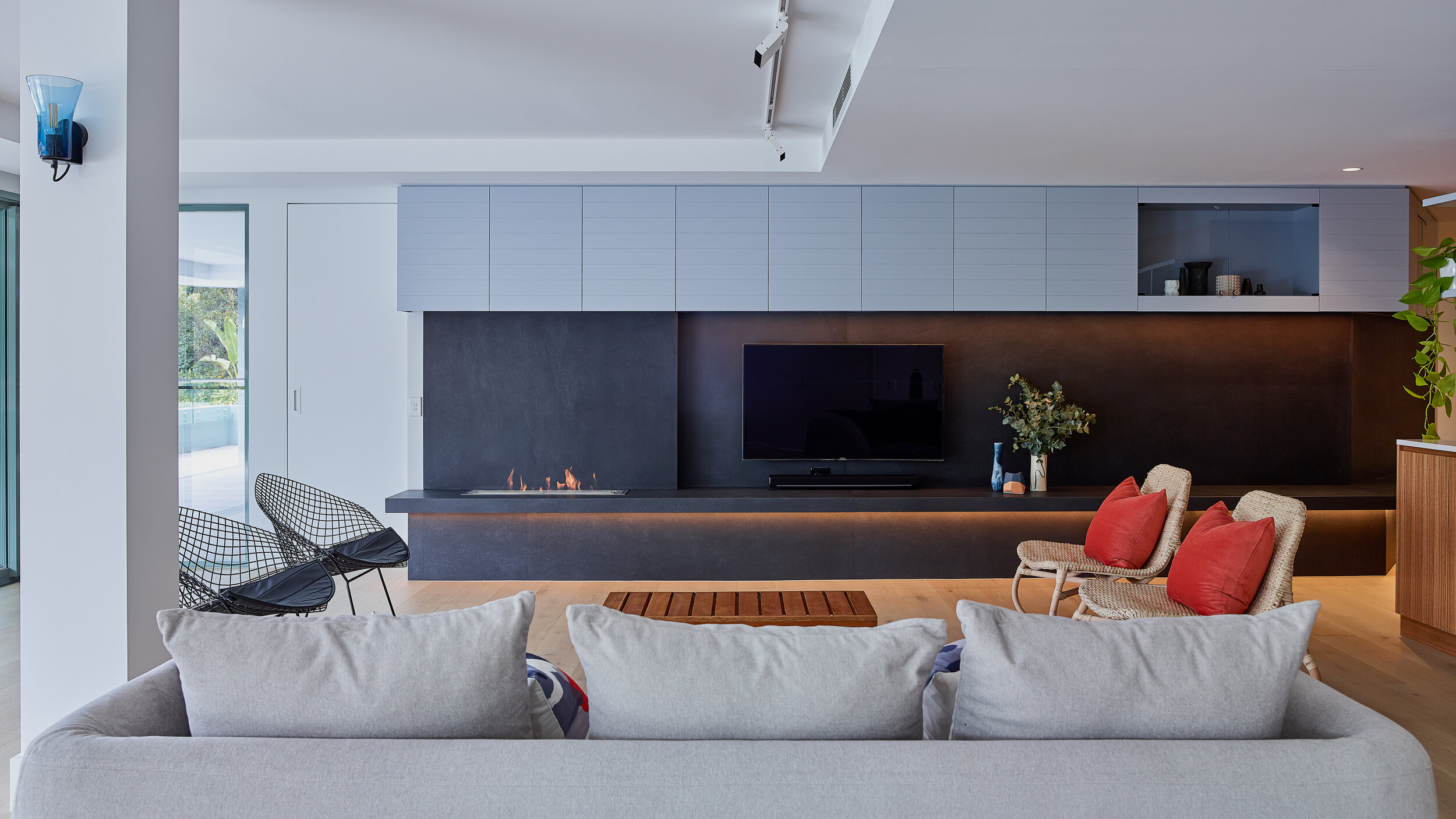 Living space
A dark joinery cabinet becomes the backdrop to the living area. charcoal stone highlights the gas fireplace and hazy blue toned cabinets reflect the sky colour on the horizon and draw your eye towards the view.
Living space
The apartment has a strong layering of colours and textures. Black pressed porcelain provides a moody backdrop to the living space, grounding the room. Horizontal lines are emphasised in the interior so that your eye travels across the room and out to the horizon.
Kitchen
Natural finishes are used in the kitchen to create texture and warmth within the apartment.
Bathing space
The ensuite is concealed within a wall of bespoke cabinetry, creating a deep timber lined threshold entry into the bathroom. The bathing space is moody and dark, with deep turquoise mosaic tiles and dark grey tiles.
Photography by Mark Skye
Vanity
Calming greys and gold give a hint of luxury to this bathing space
shower space
Sliding glass panels divide a mosaic lined shower and toilet area
Photography by Still Space
Outdoor space
Landscaping by Outdoor Establishments
Photography by Mark Skye
Photography by Still Space
Photograph by Still Space